The next five cakes were made in honor of my beautiful sister Lacey who just turned the big three zero.
As mentioned before, I tried to make this cake once already. I was super excited about making this cake because it is dark chocolate with Chambord and that just seems divine. I completed the batter, pictures and all, and had the cakes sitting on the counter top ready to go in the oven. But then, this happened: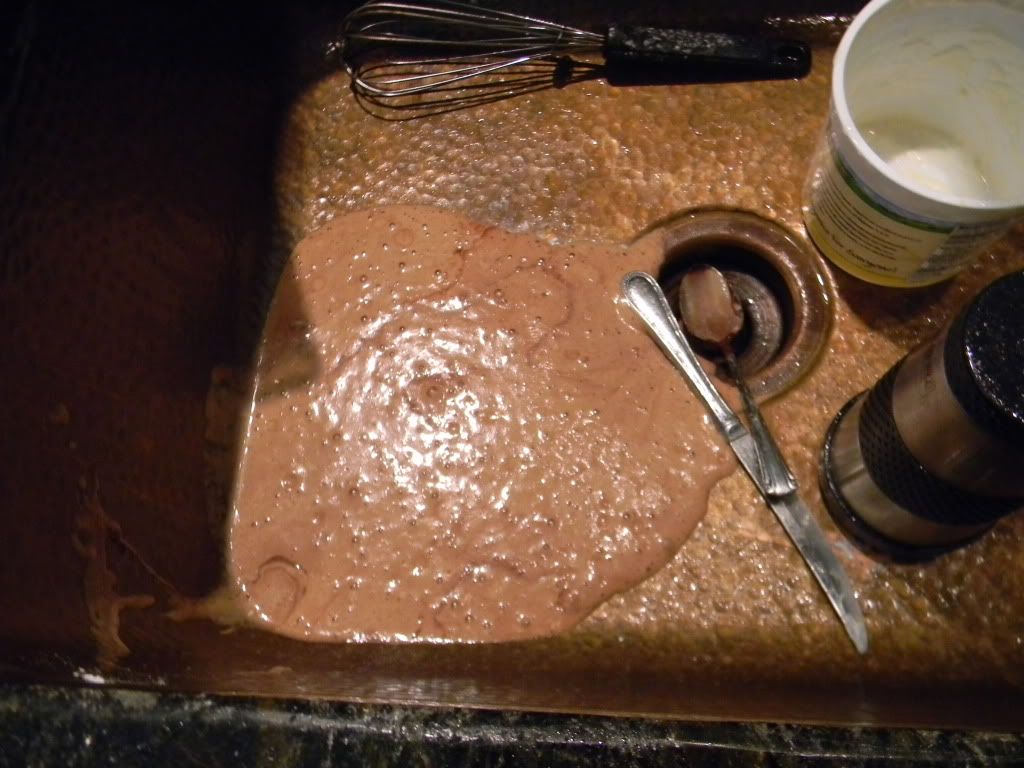 I actually screamed in shock of it all. Then I just stared at the sink... All that hard work... all those grams of chocolate literally thrown down the drain. My dad came running into the kitchen saying "Janie, are you ok?" Then he saw the complete failure sitting there.
I was defeated. I had enough to make one 6 inch cake but that wasn't going to cut it. I turned the faucet on and left the kitchen for a few days.
But now i'm back in the game and completed SIX cakes this week. Yes, that's right, six. Get ready for some posts.
First for the batter:
I had started the cake the day before but never got around to finishing it. All I had done was chop the chocolate, boil it down, and add the water to it. Thankfully I did do that the day before because it has to get to room temperature before proceeding.
So first you beat the eggs and sugar and then beat it until it is super fluffy: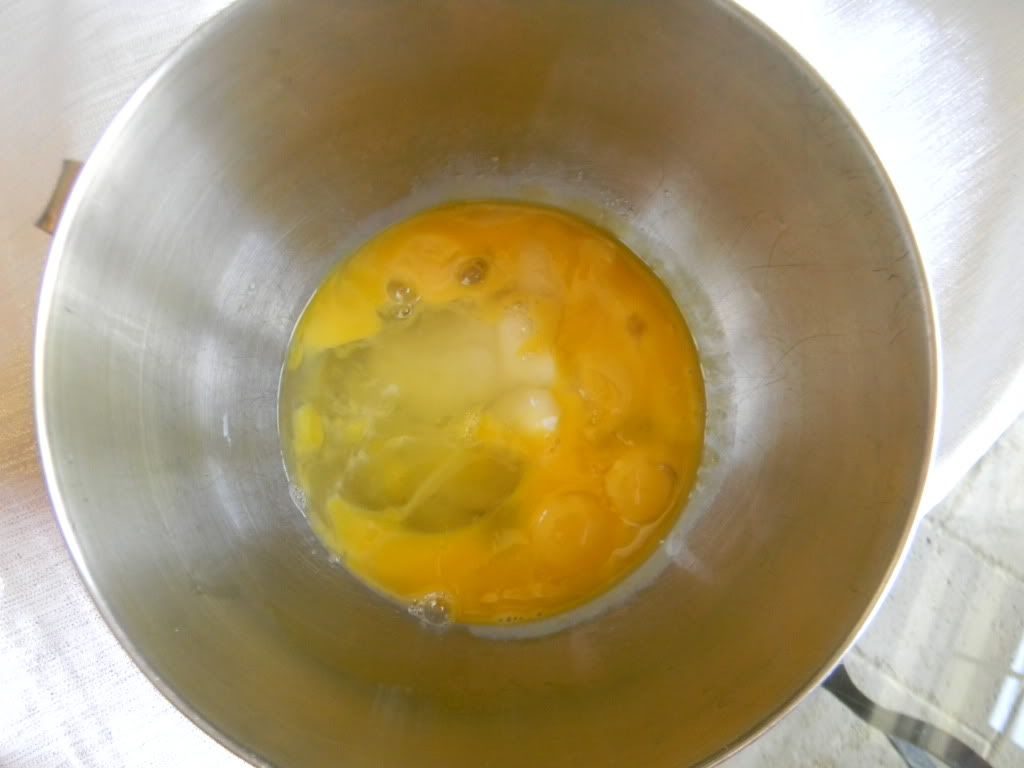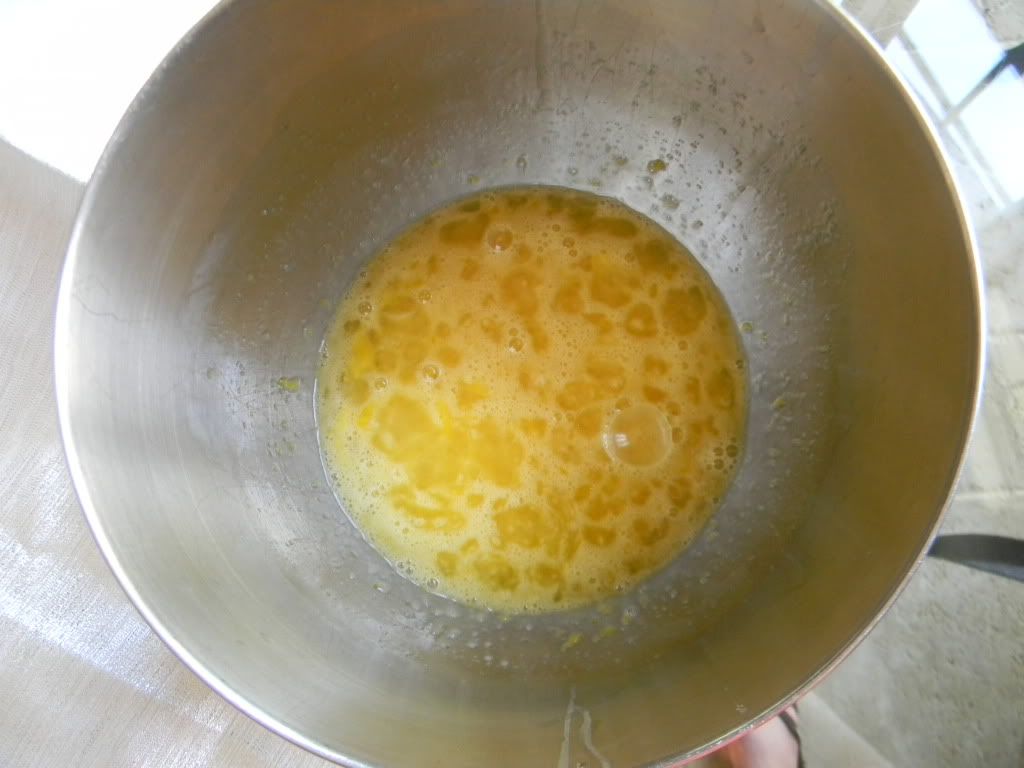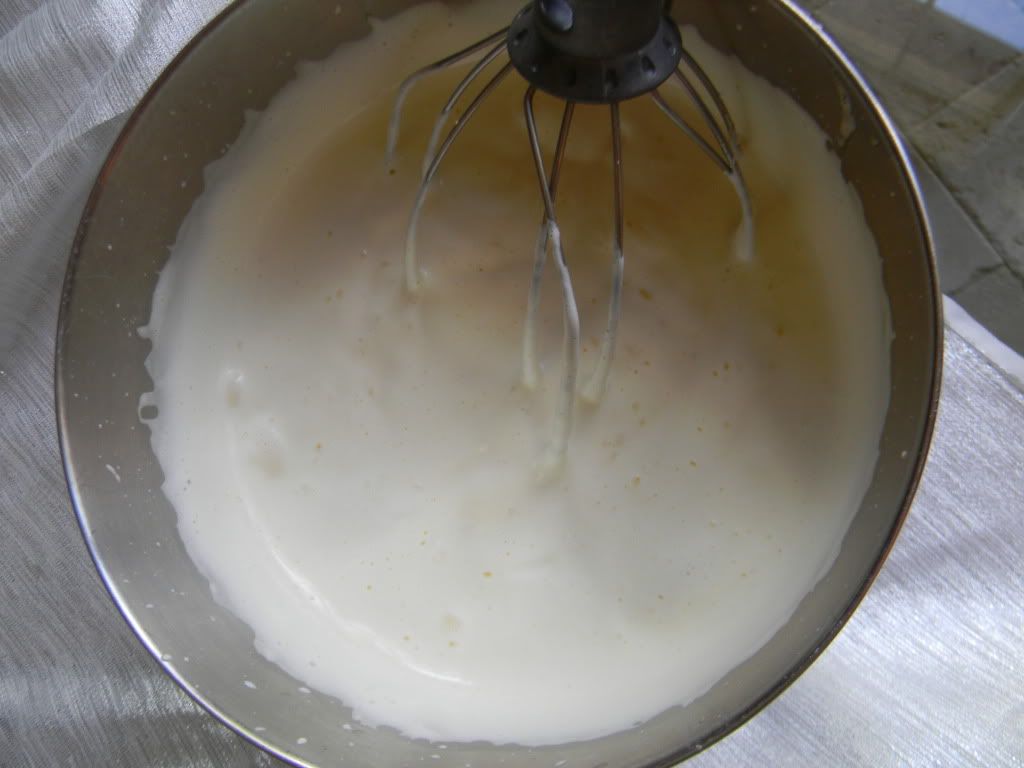 Then you fold in the flour and melted chocolate:
And then it goes into the oven. Thankfully I DIDN'T trip this time.
Nest: yummy raspberry ganache.
First you have to let the raspberries (must be thawed frozen raspberries) drain into the bowl. That took forever so I just smashed them down.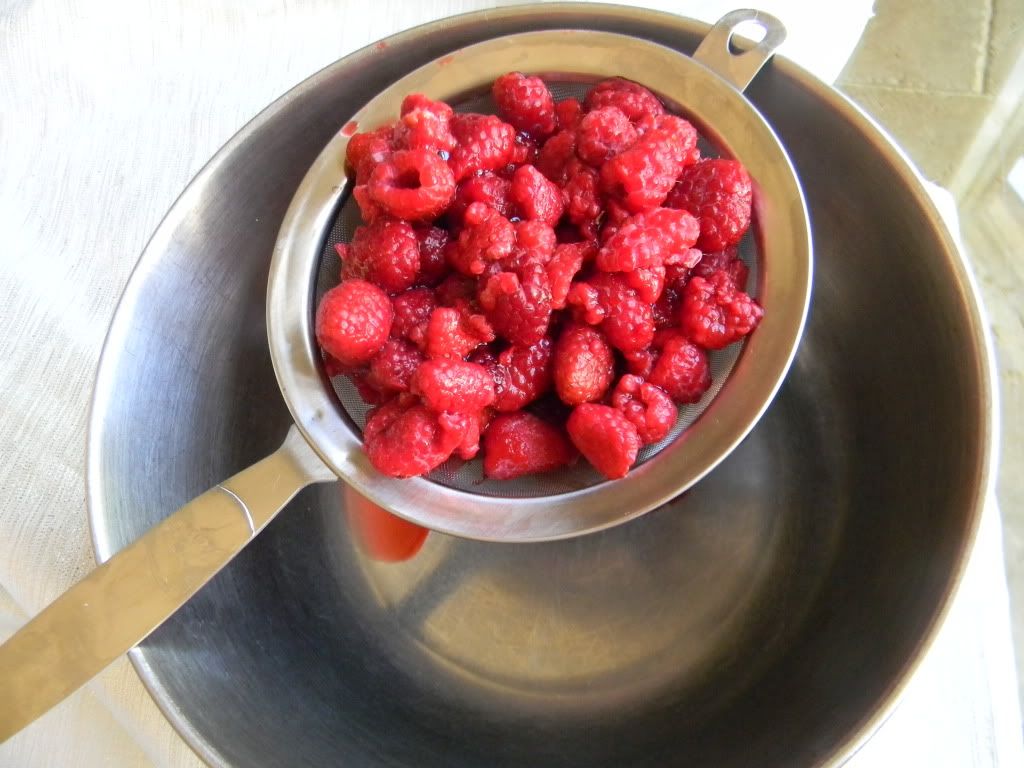 Finally, after all that smashing, I got enough juice.
But then, Rose said to put my hard earned juice in the microwave and boil it down to a fourth of a cup. Really? I was kind of scared to do that... I'm basically burning up my juice and I refused to have to go back to the grocery store when I messed this up. I got someone else to read the directions and sure enough, I was supposed to let it all evaporate. I nervously put it in the microwave...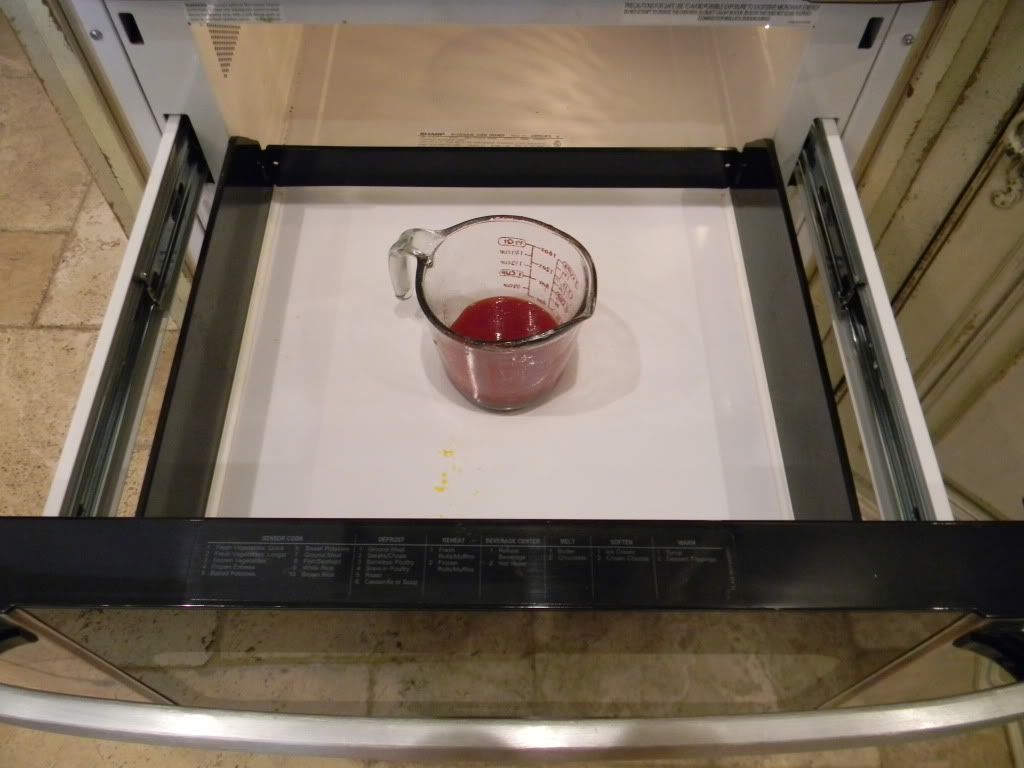 And voila! It worked! I should have known... Rose knows.
Then you basically add your new raspberry sauce to some boiling heavy cream and then puree that along with white and dark chocolate to get your ganache. Simple and delicious.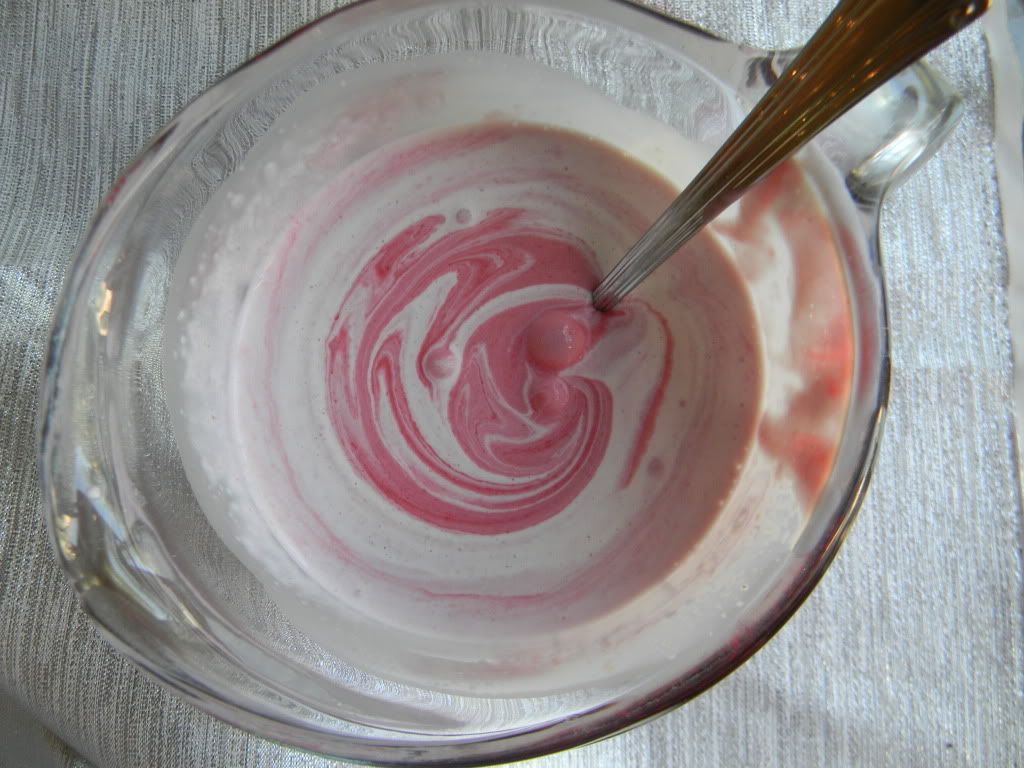 Overall it went well. To me the cake was a bit too dense. It didn't rise enough for some reason, possibly because I messed up the eggs. I was about 4 grams off on the egg yolks when I measured it but that made me about 50 grams off when I weighed it to distribute the batter into the pans. It's incredible how exact all of these numbers have to be to make it turn out right.
Other people seemed to like it but it was definitely not the star of the party. You'll just have to wait to hear more about that.
Rose's Heavenly Cakes
batter- page 186
cocoa syrup- page 189
raspberry sauce- page 190
raspberry ganache- page 191