This cake is the same recipe as the
bostini
recipe, except for the fact that it has all purpose flour and is baked in an ungreased springform pan. Rose said to put a rose nail in the middle of it so that it cooks evenly but I couldn't find mine... (note the foreshadowing).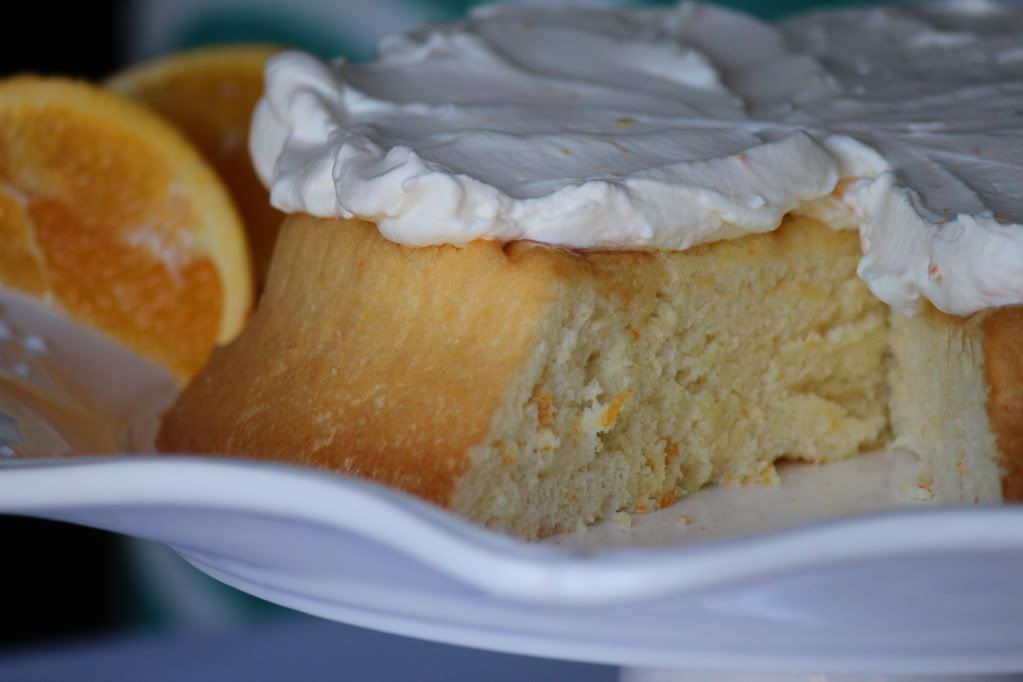 To make the cake you combine flour sugar, baking powder, salt, oil, yolks, orange zest, orange juice, and vanilla. Sounds good so far.
Then you make a meringue.
And if you read my blog or bake many cakes, you can guess what happens next: you fold the meringue into the batter.
When it comes out of the oven, the recipe gets a bit peculiar. I had to put the cake upside down on a wire rack elevated about 4 inches or higher above the work surface. It had to cool there for an hour before I could see the results.
In the mean time, Elise and Ryan kept me company.
It felt like a long time... we turned on a movie.
And finally I lifted it off. If you can't tell there is a CRATER in the middle of the cake plus the fact that the whole thing leans right. Rose said "don't worry if it dips slightly at the top" but I don't think this is slight dipping. This is major crater dipping.
.
I inverted it onto a serving plate and went with it anyway. Frosting fixes everything, right?
The final cake looked just fine and it tasted alright too. It wasn't our favorite, especially with the
lemon almond cake
sitting right next to it. It doesn't stand out. It's not that it's not good but I just don't think its worth the calories.
I ordered quail eggs on Amazon this week... get ready for the quail egg cake next!